Joyce and Bob Blanton
Rocker donated to Watauga Library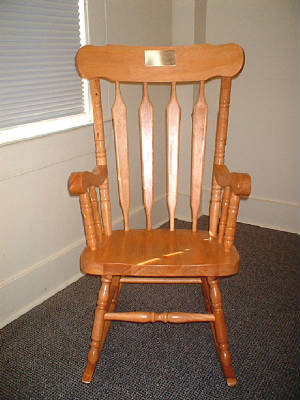 in honor of Joyce & Bob Blanton, May 2006
I have so many fond memories of Joyce, I don't know where to begin. Perhaps I should mention coconut. I hate coconut. We all know how Joyce loved to cook. She could make anything taste good. I remember once asking about the secret ingredient in a chicken dish and the secret ingredient turned out to be soda crackers. That would ruin anyone's else's cooking, but she did magic with any ingredient she touched. And she kept putting coconut in desserts. I'd always say, "oh, but I hate coconut," and she'd say, "just try it." And I always loved it. It got me trying other people's coconut dishes, too, and finding that I still hate all of them--except the recipes Joyce used--she could always turn that dreaded non-food into a treat.
I didn't just belong to a writers' group with Joyce, I belonged to one of the smaller offshoots of High Country Writers with her, too. It was geared toward memoire writing, and I had no interest in writing my memoires, but I was in it because Joyce came up with such wonderful writing assignments. I remember one where I came up with this detailed, sensual memory of going shopping as a tiny kid with my parents, and our grocery store had sqeaky wooden floors, and we brought our groceries home in the boxes that the food came to the store packed in. It conjured up such fond details--Joyce had a way of bringing them out of me. I also sepent some time scrapping with Joyce. There were family Easters, and pictures of friends from grad school--all those parts of my life that I shared with Joyce as I pasted pictures onto decorated pages. Always while looking at pictures from her life--Hawaii and Turkey, and the boys' childhoods, and young Joyce in Alabama. From all the memory writing and picture pasting we did together, I feel like my whole life was blended in with Joyce's. As if Joyce was on an island in the Pacific in 1968, but it was right across the street from my grandmother's house in Cleveland in 1957, and we could wave to one to one another across time and space. Oh, she'll be missed! But she's part of everything, so maybe she can't be missed all that much! --Linda Jencson
The last time I saw Joyce was in Wal-Mart. We met at the end of the kitchen isle and walked into each other's arms. She had one of her sons in toe shopping for things for his new apartment. She mentioned she had trouble walking but thought it was just joint problems.

Always nurturing, always thoughtful, Joyce will, I am sure if there is a hereafter, be going about preparing something sumptuous for a new orgainzation called "A Writer's Memories of Earth.".

I miss her, and in my heart she is still in a beautiful cottage with Bob sharing the Joy in Joyce as always.

Grace Wakeman

Joyce was one of the sweetest women I have ever had the pleasure to know. She always had a smile on her face,an arm around your shoulder, and the attitude of a saint. She will be missed by all who were lucky enough to have called her "friend."
Jean Shoemaker




Though we didn't have to opportunity to get to know Joyce, we remember her well. She was the first person we met at High Country Writers. She greeted us with a warm smile and made us feel that we were welcome additions to the group. Her sweetness will be missed.

Rich and Danielle Bussone

J...Just a special person in thought, word, deed, with sweetness, caring, loyalty.....
O...Only would allow positive vibes with no criticism or sarcasism ever.....
Y...Young in mind and spirit and knew how to tranfer her joy to others.....
C...Courageous -- oh yes -- was there ever anyone with the hearache of her later years?.....
E...Entertaining maven. What a glorious hostess, always delicious food and happy greeting for guests.......
JOYCE will always fill a place in my heart and be treasured by her friends and family.
Barbara Ingalls
I remember the day Joyce showed up for the first time at our High Country Writers meeting back in 1999. She was a shy Southern lady from Alabama. I fell right in love of her. It wasn't long before she bloomed into a full participating member. When she presented her first manuscript for our critique I was blown away with the beauty of her writing language. Before long she became our treasured Treasurer and my treasured friend. I will sorely miss her at our meetings ... and her cookies.
- Bill Kaiser
I'm so sorry to hear about Joyce's passing. She was such a ray of sunshine in our midst, and I will always remember the sweetness of her smile each time I visited her in the hospital and she was in such pain. She had so much patience and courage.

Pax, Nora Percival

My memories of Bob are that while he was in his own right a strong, professional military man, he always seemed to stand beside (perhaps even a little behind) Joyce in the supportive manner of a truly devoted husband. Whenever I saw them at a gathering or at their home, his gentle love of this woman who had been with him throughout his career was so evident it was almost palpable. His three strong, handsome sons were the pride of both their lives. When visiting their home one of the most obvious decorations were three walls, one dedicated to each of those boys, crowded with pictures of their growing-up years.

Even though Bob was no doubt extremely busy with his work, Joyce's scrapbooks are filled with photos of the family, taken in the many duty stations of his career. Happy records that very often included this husband and father who loved his family above everything. Even with a demanding career that took them around the world, he managed to be with his beloved family as much as possible.

One of my fondest memories is of Bob's sweet love for their little granddaughter, Pelin. There is a beautiful picture of Bob and little Pelin, nose to nose in a loving grandfather-granddaughter moment. Pelin and her parents lived in Chicago, and Bob often longed to be with them, particularly the child. As his illness progressed he sometimes could not remember her name. Joyce told me he would ask for "that little girl".

Bob was well-liked and respected by everyone who knew him. In the days following his death Joyce received calls from all over the country from friends and former co-workers. Neighbors in their beloved Jonas Ridge community were shocked and saddened by what seemed to all of us his sudden passing. Bob's large family in Charleston rallied around them during Bob's illness and were a tremendous help to both of them.

Joyce has returned to Birmingham now to spend as much time as possible with her own large family group. I have not heard from her yet, but will share her address with HCW as soon as I know it. She would love to continue hearing from you.

All of us are a little better for knowing Bob and Joyce.

--Catherine Bare



The first time I met Bob Blanton he came to my car and escorted me to their steps to the house, saying "We have tricky steps and I wouldn't want you to stumble on your first visit to our home". He was a gentle gentlman, proud of his family as he showed me pictures on the wall. He had a tender smile as we commented on pictures of Joyce and him taken at a younger stage of life. My comment was that Joyce is still as beautiful and he nodded in agreement.

-- Dottie Isbell

Bob Blanton -

I'll always remember Bob sitting quietly when he came with Joyce to High Country Writer meetings and lunches. It was a revelation to me when I finally got to talk with him at length about his outstanding military career and his and Joyce's world travels.

Bill Kaiser

Col. Robert Delano (or as we knew him) "Bob" Blanton, passed away January 26, 2006 at his home in N. Charleston, SC. Bob joined the Marine Corps in 1957 where he learned to fly. He left the Marine Corps for three years, working as a crop duster pilot and then flew for the U.S. Forestry Service in North Carolina fighting forest fires. He once landed a plane on I-40 west of Durham after police blocked traffic for him. He rejoined the Marines and became a Naval flight instructor.

While Bob's military service gave him and Joyce, and their three sons, wonderful opportunities to travel and live all over the world, it had its dangerous side. Bob served in Viet Nam where he performed medical evacuations of wounded Americans – often under hostile fire. He was four-times awarded the Distinguished Flying Cross, the highest honor awarded to pilots. He was also awarded 57 Air Medal citations, three Bronze Stars, a Silver Star and numerous other medals. Needless to say, he was one of our American heroes.

We got to know Bob after he retired. He and Joyce moved to our beloved Blue Ridge Mountains and made their home on Jonas Ridge. They joined High Country Writers in 1999, and Joyce served as our treasurer for several years. Since Bob was a high-ranking officer, they were called upon to entertain all through their military lives. We got the benefit of Joyce's wonderful cooking when she volunteered to host our Spring Fling three years ago. She easily prepared all the delicious food, insisting that none of us bring anything but "ourselves and our appetites."

Oddly, Bob and Joyce both contracted cancer at nearly the same time. They moved back to Bob's home in N. Charleston, SC to be with family. Joyce remains in the family's care. We shall always miss their warm, ready smiles and sweet temperaments.

--Ree Strawser
Members we miss.
"ENERGIZING WRITERS SINCE 1995"
Copyright 2009 to present
High Country Writers -- Boone -- NC -- 28607