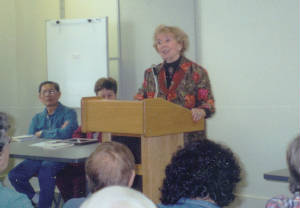 Marian's books were honored with Book of the Year Awards from High Country Writers in their years of publication. This photo is from 1998.
For Marian Coe Zipperlin, the lovely one we cherish in our heart of hearts!
by Dottie Isbell
Marian was like a Camelia Rose
whose petals flowed
with a covering of swirling chiffon.
There were no rough rocks
to stumble over
in a relationship with our writer friend.
There was nothing artificial.
She shared the eloquence of her pen
She shared the warmth of friendship
with everyone.
Marian Coe has been a Beacon of Light
in my personal quest to be a writer.
She has critiqued, praised and suggested.
Her notes and e-mails are tied
with rainbow colors.
And in this final life her spirit will glow forever!
Marian's program and signing at Black Bear (Book Warehouse then) was the first one Bob had been to. He had read 'Eve's Mountain' and when she finished her presentation, he said, "That Marian knows how to write a story and present it in a totally entertaining way. She draws you into the story with drama and excitement."
Barbara Ingalls
What a gift! I met Marian when we sat next to each other at the 1st Annual May We Write Conference. In the short breaks between speakers I gained so much from Marian. Her presence, example of fortitude, and beauty of spirit remain with me. Though her breadth of publishing experience was greater than mine, we seemed one, remain as one. Evelyn Asher